Archive for the 'iPad Accounting' Category
To add to the number of financial management iPad apps, SplashData released two new iPad applications. SplashData, a productivity software provider for smartphones, developed the SplashShopper and SplashMoney applications for Apple's iPad.
The SplashShopper iPad app is a list maker and organizer app that helps users keep track of their purchases. SplashShopper has sections where users can manage their lists of groceries,movies, music, gifts, to-dos, and anything else that you might buy. It even tracks the location of where you purchased the item. All prices are recorded so users can view how much they spent and where they spent it. This feature is particularly useful because users can compare places to shop. For example, if they regularly shop at two grocery stores, the SplashShopper for iPad will show them which store they spend more money in. Users can even track per-store prices by assigning items to multiple stores and seeing how much it costs at different places with SplashShopper.
The SplashShopper lets you create an unlimited number of shopping lists on your iPad. Lists are separated into categories and locations. The app also uses location-based mapping to help users find the nearest store for their items. It even picks up localized currency settings. Shop smarter with a few taps on your iPad with this application.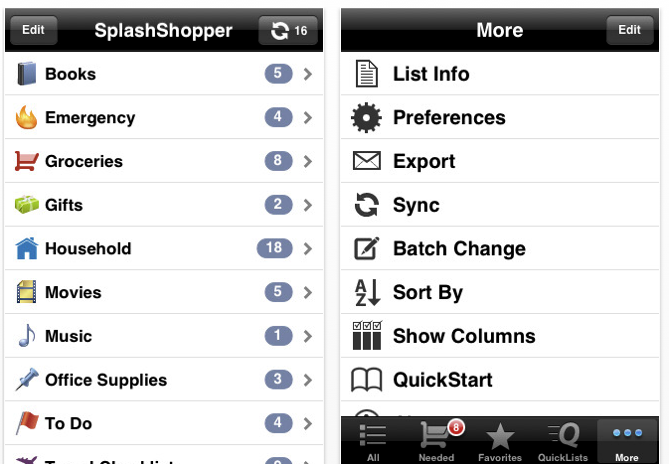 SplashShopper for iPad Screenshot
SplashData's other accounting iPad application is SplashMoney. SplashMoney is a personal finance manager for the iPad. SplashMoney allows users to manage their money on-the-go with their iPad. All bank accounts are synced with the iPad, so every transaction is instantly recorded in the application. Users can create budgets and track spending. SplashMoney makes it easy with charts and customizable reporting.
SplashMoney also lets users schedule transactions with reminders and enables secure password protection. SplashMoney can track many different account types, including savings, checking, credit card, cash, assets, liability and money market. Keep track of your money and make sure you stay within your budget on your iPad with SplashMoney.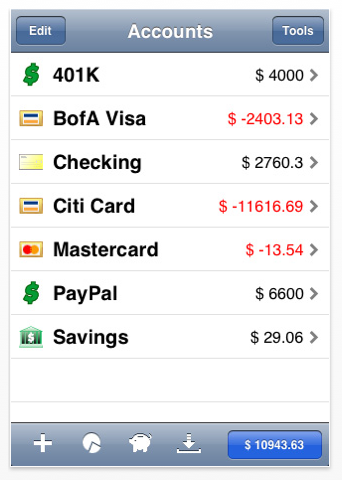 SplashMoney for iPad Screenshot
So, get your money organized with SplashShopper and budget with SplashMoney. Both iPad applications are only $4.99 on the Apple App store.
No comments
"There's an app for just about anything."
Apple's slogan is fast becoming true. iPhone and iPad users can now find easy-to-use personal accounting software in the Apple App Store. CashPilot was released December '09 on the App Store in the Finance category, but the company has already iterated a new Version 1.2.4 with improved language support. CashPilot was designed to facilitate the management of income and expenses; CashPilot is personal accounting made easy.
CashPilot users can easily export or email weekly, monthly or yearly expense reports. Accounting automation through CashPilot optimizes efficiency and with iPhone and iPad integration, personal accounting can be done anytime, anywhere.
Ralf Boesswetter, the founder of CashPilot, created the application as a solution to accommodate his personal accounting needs. CashPilot was quick to spread because the app allows users to monitor and manage their finances, thereby making them feel in control of their money.
CashPilot's interface is easy to use and navigate; no bookkeeping experience necessary. Here's a screenshot of the CashPilot interface on the iPhone: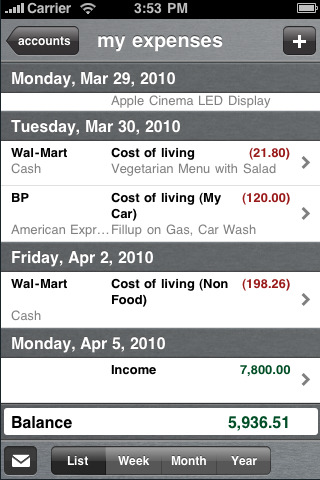 CashPilot provides users with real time access to their financial data. With a few taps, users can access reports, graphs, and their purchase history. Users can also easily edit, configure, delete and manage their spending categories.
Financial management is a legitimate concern for many people, in our current economy. CashPilot facilitates asset management and gives users control over their financial destiny for a nominal fee of $2.99. See CashPilot in action here: http://www.cashpilot.net/en/video/
No comments