"There's an app for just about anything."
Apple's slogan is fast becoming true. iPhone and iPad users can now find easy-to-use personal accounting software in the Apple App Store. CashPilot was released December '09 on the App Store in the Finance category, but the company has already iterated a new Version 1.2.4 with improved language support. CashPilot was designed to facilitate the management of income and expenses; CashPilot is personal accounting made easy.
CashPilot users can easily export or email weekly, monthly or yearly expense reports. Accounting automation through CashPilot optimizes efficiency and with iPhone and iPad integration, personal accounting can be done anytime, anywhere.
Ralf Boesswetter, the founder of CashPilot, created the application as a solution to accommodate his personal accounting needs. CashPilot was quick to spread because the app allows users to monitor and manage their finances, thereby making them feel in control of their money.
CashPilot's interface is easy to use and navigate; no bookkeeping experience necessary. Here's a screenshot of the CashPilot interface on the iPhone: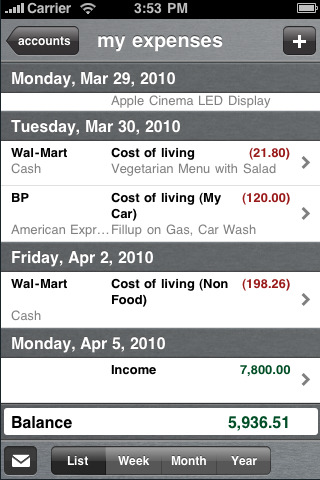 CashPilot provides users with real time access to their financial data. With a few taps, users can access reports, graphs, and their purchase history. Users can also easily edit, configure, delete and manage their spending categories.
Financial management is a legitimate concern for many people, in our current economy. CashPilot facilitates asset management and gives users control over their financial destiny for a nominal fee of $2.99. See CashPilot in action here: http://www.cashpilot.net/en/video/
No comments