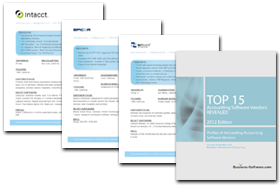 Tips and vendor lists to help you find the best Accounting software for your company.
In this report, you'll learn about:
The Top 15 Accounting vendors in the industry.
Highlights of the core strengths of each solution.
Key background information on each vendor.
Research on the accounting software industry.
How accounting software can be used to improve your company.
Download this FREE report today and discover which of the leading accounting solutions is right for you.
Learn more about vendors like:

Register for Your FREE Report