Choosing Business Accounting Software: Tips to Follow and Pitfalls to Avoid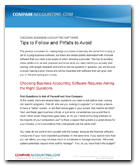 While much of the buying process is similar to that of looking for any high priced item, there are pitfalls associated with accounting software that you need to avoid, especially if you aren't very familiar with what's out there. Here are a few tips for buying accounting software, as well as warning signs to look out for when researching vendors.
Fill out the form below to gain access to this FREE white paper offer. Once you've finished entering your information, you'll be taken to the download screen.