What's the Difference Between Microsoft Dynamics GP, NAV, and SL?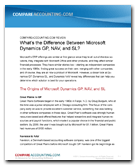 Are you a small to medium-sized enterprise that's trying to decide between the different Microsoft Dynamics platforms? At first glance, all three solutions appear pretty similar, and it's only through a deeper analysis of each financial management system that the differences emerge. No matter what your industry, needs, or size of your company, one of these three Microsoft Dynamics solutions should fit the requirements of your business.
To read more about the differences between Microsoft Dynamics GP, NAV, and SL, fill out the form below to gain access to this FREE white paper offer.